---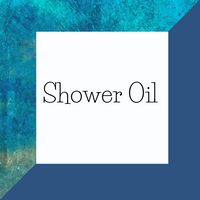 A glorious in shower moisturizing oil! 
After washing while still in the shower, spray liberally all over your body.  Massage oil and rinse with warm water.  Your skin will feel silky and soft.  Pat dry and add your favorite skin moisturizer!
*Please use caution as tub can be slippery!*
8 oz bottle with trigger spray.
Ingredients: Olive Oil, Apricot Kernel Oil, Rice Bran Oil, Avocado Oil, Grapeseed Oil, Skin Safe Fragrance

Benefits:
Olive Oil- Protects and hydrates skin.  Anti-aging and antioxidant properties.  
Apricot Kernal Oil- Help Sooth Dry Skin, Rich in Fatty Acids
Rice Bran Oil- Vitamins B and E. Hydrating, Soothing, skin protectant and anti-aging properties. 
Avocado Oil- Helps heal dry skin and calm skin irritations.  Hydrate and moisturize.
Grapeseed Oil- Skin Moisturizer