---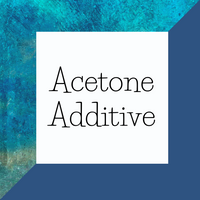 Are your nails and cuticles CONSTANTLY dried out by the effects of acetone?!  Well Acetone Additive is here to safe the day!  Add this miracle elixir to acetone and remove your polish with no more dry, crusty and peelings nails from the harsh effects of acetone.
Directions: Shake Well.  Add entire bottle to 4 oz of acetone.  If you prefer a little at a time, add a few drops to a small container of acetone.
Ingredients: Distilled Water, Marula Oil, Argan Oil, Polysorbate 20, Fragrance
Benefits: 
Marula Oil: Lightweight and absorbs easy.  Helps skin hydrated and well nourished.
Argan Oil: It's packed with omega fatty acids, vitamin E, and linoleic acids, all of which work to lightly moisturize your skin and help soften dry patches.
Polysorbate 20: Emulsifying water and oils together.
0.5 fl oz squeeze dropper bottle