---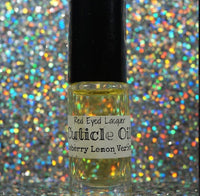 A blend of oils that keep your nails and cuticles moisturized!
Swipe the rollerball over your cuticles and your nails and gently rub in.
Swatch Credit:
@teenynails

Vegan and Cruelty Free
Ingredients: Jojoba Oil, Sweet Almond Oil, Vitamin E Oil, Apricot Kernal Oil, Coconut Oil, Grapeseed Oil, Skin Safe Fragrances.
Jojoba Oil- Anti-Aging, Anti-Inflammatory, Moisturizer
Sweet Almond Oil- Moisturizing Agent to Help Heal Skin, Soaks Into Skin Faster, Less Greasy Feeling
Vitamin E Oil- Moisturizing Agent
Apricot Kernal Oil- Help Sooth Dry Skin, Rich in Fatty Acids
Coconut Oil- Hydrates Skin for Up to 24 Hours, Can Help Slow Down Aging and Reduce Damage from Free Radicals
Grapeseed Oil- Skin Moisturizer
*Please discontinue use if an irritation occurs*