---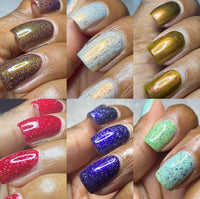 Part 2 in the Horror Collab series!
6 piece collection with all new stages of Horror! In collaboration with JayLynn @gotnail and Charlie @varnishedvampire
1. You're Saying That That's A Real Person...Underneath?! Inspired by House Of Wax- a mint green to mint blue thermal with black flakes, gold and green glass flakes!
2. I'm Having A Friend For Dinner. Inspired by Silence Of The Lambs- a white crelly with orange/gold shifting shimmer and orange/bronze/gold UCC micro flakes!
3. He's Wearing Her Face. Inspired by Leatherface- a reddened brown crelly with green/gold shifting shimmer and holo!
4. Pazuzu. Inspired by The Exorcist- an olive green base with red/gold shifting multi chrome, a blue shifting shimmer and a blue/gold/green crystal flakes!
5. They're Heeeere! Inspired by Poltergeist- a black/blue multi chrome with holo flakes and a white glow in the dark!
6. They're All Going To Laugh At You. Inspired by Carrie- a blood red jelly with holo flakes!
12 ml bottles
Swatch Credit:
@readingnora